Client Stories – How USA Travel House increased their call response rate after implementing Voifinity?
USA Travel House , a leading online travel and tour service company, is known for providing customized tour packages. They have a dominant position in ticketing for international flights with realistic airfare rates and seasonal offers.
Challenges
Previously they had difficulty to manage incoming inquiries through telephones, especially when number of calls are high. Clients have issues regarding longer wait time to connect to a travel agent. Rates for International dialing was higher. This increased the operational expense significantly.
Solution
USA Travel House implemented Voifinity's business phone solution after comparing leading cloud telephone service providers. Apart from a significant reduction in operating expense, now they can use features of an advance call center. Sales conversion has increased with features like call tracking (to avoid loss of leads), after-working hours availability and better customer experience.
Benefits
Voifinity's business-friendly features enabled USA Travel House to handle business calls in the most efficient manner. Voifinity's multi-level IVR enabled them to route clients to the package of their choice. Customers get general details and seasonal offers from the pre-recorded IVR prompts /custom messages. Call forwarding helps the travel agents to attend calls even when they are out of office, hence the number of abandoned or unanswered calls were significantly reduced. On holidays or out-of-office hours, they could effectively answer the calls on their home devices or mobile phones. Call logs directory helped them build a prominent database. This was really useful for upselling. The migration to Voifinity business phone from a traditional phone system was easy and quick with no downtime for their routine tasks.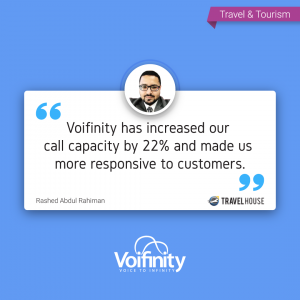 "USA travel house's call capacity improved by 22% after implementing Voifinity business phone which significantly reduced their business operational costs."